Confined Space Painting In Alaska, Colorado, & Wyoming
Glacier Industrial Painting is highly trained and has certified expert professionals for a variety of confined space painting in Alaska, Colorado and Wyoming. We provide safe efficient premium quality painting in confined space ranging from eighteen-inch pipe to sixty-inch pipe back to small tanks.  Glacier Industrial Painting follows the common sense approach, rule number one never assume anything and never assume the painting environment and atmosphere is safe. We always prepare for the worst to avoid costly accidents.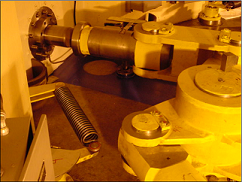 Confined space painting is considered an area with restricted space for movement and restricted airflow. A perfect example would be someone painting fingernails in a small bathroom with a window shut. This presents limited fresh air with only one exit. Although this scenario may seem harmless or exaggerated if the window stays shut and the bathroom door is closed it will become toxic quite fast and then it becomes harmful to one's personal health. Open the bathroom window and door and turn on the bathroom ceiling fan and now we have the atmospheric conditions under control with little environmental and health impact. The same applies for industrial confined space painting of interior pipe and small tanks. Controlling the airflow, time of exposure and the rate of application limit the hazards and increase the safety of people and property. Regardless if we are painting an epoxy system on a small fuel tank or working on a Hydro power plant sixty-inch interior pipe we follow the same safety procedures.
Glacier Industrial Painting is your best choice for all confined space painting, lowering liability and ensuring safety and delivering the best epoxy coatings in the business.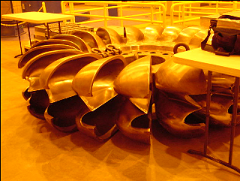 For confined space painting in Alaska, Colorado, or Wyoming, contact us today.The importance of contracting a qualified industrial painting contractor can be measured by the safety plan and procedures involved throughout the entire painting procedures from beginning to end. Confined space painting cannot only be hazardous to the people working in the confined space but the atmosphere can also become a fire hazard.
When Glacier Industrial painting performs confined space painting in Alaska, Colorado and Wyoming, we control this by proper ventilation through a positive and negative air supply. Glacier Industrial Painting follows self-imposed strict confined space protocol. We use gas sniffers before Glacier Industrial Painting believes over kill in confined space painting is the only logical way to apply these industrial solvent-based paints. Glacier Industrial Painting has a perfect safety record and will continue to work under the safest possible practices known and available. We continue to keep up with the latest equipment for monitoring and sniffing solvents.entering the confined space; we also use positive air supply on the person working. We communicate by radio and have tag lines attached to each man. The exit and entry openings have a push and pull fan with extra backup fans on sight. A designated power supply is used with backup generator power on sight. The gas sniffer monitors the air every ten minutes and exposure time is limited as per the system being applies requires. The epoxy has solvent content and voc's that are monitored for safety. These safety procedures are not required but Glacier Industrial Painting has been interviewed by Fox 31 on the unfortunate mistakes of a company that did not follow industry standards in the work place in confined space painting of industrial coatings the price for cutting corners and trying to save money can end in the loss of a life as it did with this company.we follow them to avoid that perfect storm and avoid that regretful story..