Epoxy Painting & Flooring In Wyoming
Glacier Industrial Painting is proud to offer epoxy painting in Wyoming, epoxy flooring systems, as well as other high performance coatings for the entire state of Wyoming. Glacier Industrial Painting has 20 plus years in business. We have perfected the process of reconditioning concrete. Regardless of what condition or how bad the present condition is of the concrete we can transform it back to its original state. This process reduces down time and saves money. We also transform old concrete into beautiful sealed concrete.
Glacier Industrial Painting offers premium quality painting for all of your residential, commercial and industrial needs. We have special training and certification in a variety of industrial high performance specialty coatings. Some of these coatings are low temperature epoxy paints for extreme conditions and food industry freezers. We also apply quick set and fast dry trowel systems and overlays for battery stations. These systems can be applied to concrete with extreme damage that has open rocks (aggregate).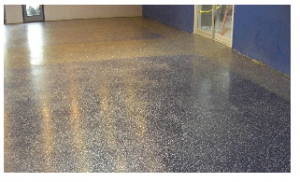 Glacier Industrial Painting offers epoxy flooring in Wyoming which may be required for airplane hangers and showrooms. These epoxy flooring systems can be custom made to match current business themes and colors to promote your business. We offer custom epoxy chip system that have that "wet look". These systems have two coats of clear protective topcoat. These are the systems that best show merchandise for sale such as motorcycles cars and trucks. These systems also look great in airplane hangers and they have an ant-skid surface. They also look great in entranceways into business lobby and offices.
Single color epoxy systems perform well in airplane hangers workshops and warehouse and industrial utilitarian floors. These single color epoxy systems protect the concrete reflect light and brighten up the work areas and make clean easy. Wash bays and clean outs for big rigs should be painted with a special epoxy for submersible conditions. This special epoxy protects the block and the concrete from water damage. Continued water exposure will destroy concrete without waterproofing it with epoxy.
Glacier Industrial Painting has a level of expertise in the industrial high performance coating business that few companies can offer. We are an industrial painting company so we have a scientific understanding of how paints work and perform under a variety of demanding conditions. Surface preparation of steel and concrete is extremely important to the success and life of the epoxy coatings. Glacier Industrial Painting has top of the line new equipment that provides excellent results. Glacier Industrial Painting is your best choice for all of your painting needs. We take the time to explain all phases of the process and involve you in every one for the most professional results possible. For more information about epoxy painting in Wyoming, contact us today..