Diamond Grinding

Diamond grinding in Colorado, Alaska, and Wyoming is proudly offered through the professionals at Glacier Industrial Painting.  Diamond grinding is a process for resurfacing concrete. The name diamond grinding refers to the grinding wheels, which come in a large variety of shapes and sizes. They are most commonly used on diamond grinders that come in many sizes. The name, "diamond" is appropriately given because small diamonds are formed into these wheels- yes they are really diamonds.  Diamonds are known as ionic crystal lattis, which are extremely strong holding up under heat and have great cutting abilities. These diamonds are formed into the cutting surfaces of the cutting wheel. The diamonds cut the top surface off of the concrete, removing old paints, dirt, and contaminates. Diamond grinding is also used to level out trip edges and imperfections in the surface of the concrete.
Concrete has different degrees of density and hardness for multiple reasons, depending on what the concrete is being used for. A second story walkway made of concrete will not need to be as hard and dense as concrete in a floor that will be used in manufacturing with heavy equipment, cranes, big trucks, and forklifts. Concrete in a garage floor will be harder and denser than a second story walkway balcony or breezeway, and concrete in an airplane hangar will be even harder and denser than on a garage floor.
The diamond grinding process is greatly affected by the hardness and density of concrete. The concrete primarily used in the residential setting is usually softer and when diamond grinding, the operation must be extremely careful not to gouge, cut, and scar the concrete surface. A person with limited experience can significantly damage concrete. The deep scratches, gouges, and scars will become more obvious after the coatings and paints are applied. The new sealants are usually high gloss, emphasizing the errors in the diamond grinding process. Diamond grinding should not be attempted by anyone without proper training to avoid making these errors. Diamond grinding of all sizes are cutting tools; they are machines that spin at high RPM with very aggressive cutting wheels. Only a strong, healthy person should use a diamond grinder to avoid personal injury.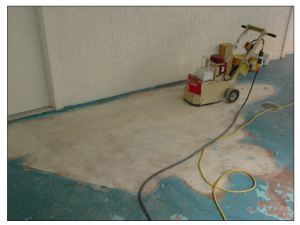 It is important to perform Diamond grinding in Colorado, Alaska, and Wyoming  in a proper manner. When using diamond grinding on very hard concrete, diamond grinders will start to glaze the concrete if used too long. Special diamond wheels can (and should) be used and with extra skill. If a person with limited knowledge and skill is using a diamond grinder on hard, dense concrete without the correct diamonds and proper technique, the diamond grinding actually transforms into a polishing process. Instead of removing dirt contaminates, oils, and the top layer of concrete, like the equipment is designed to do, the concrete becomes shiny, smooth, and polished. This is a result of heated concrete and improper usage of the diamond grinders.
Diamond grinders are excellent tools that can transform ugly, beat up, old, chipped, and cracked concrete into beautiful, smooth, level concrete, and we are proud to apply the best epoxy systems on the market.  We at Glacier Industrial Painting have the best trained professionals, utilize the latest and great equipment, and the have highest level of skill in the business. Let us transform you old concrete, whether it be on the residential, commercial, or industrial level, to its original luster. If you are in need of Diamond grinding in Colorado, Alaska, or Wyoming,  contact us today so we can transform your current concrete!
Alaska: (907) 561-0467
Colorado: (303) 809-4244
Wyoming: 1-(866) 561-0467